A STOP FOR EVERYONE
Felindre has taken possession of it's disused bus shelter, complete with seat, courtesy of Powys County Council. There hasn't been a bus along this route for years, but a few residents had a plan to turn it into a community resource! Once paperwork & insurance were in place it was cleaned, painted and now houses two notice boards, one for Felindre Village Hall Committee business and the other for Gwernyfed Community Council items.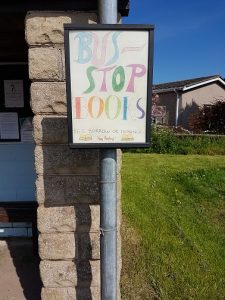 There are posters with local information, items for sale, what's on in the village and local area, and much more. Bookshelves have been installed and now house a great selection of books available for anyone to take and read. Donations are always welcome, just pop them on the shelves. Sales of over-produced plant and garden produce pop up occasionally as well.There are further plans for it to house a map of the village, walking information and village history. It is already being used as a stop off for walkers, cyclists and book browsers.
The Village Hall Committee recently took ownership of the disused telephone box at a cost of £1. What will they do with it? Watch this space!